2022 Christmas Potluck
I hosted my annual Christmas Appetizer Potluck on Sunday, December 18th. Marissa, Jeff and Max had arrived the afternoon before. I was pretty upfront with my friends/guests that this was as much the annual gathering as it was a "Come Meet Max!" Party.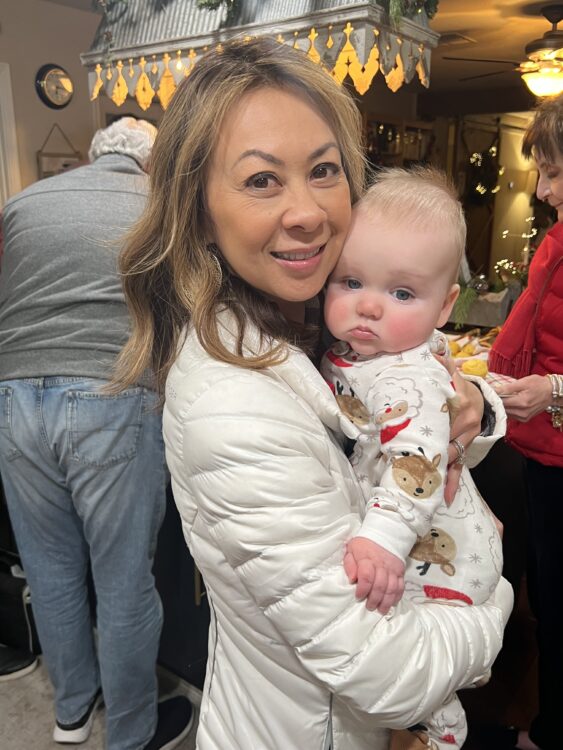 I took not one photo of the food or beverages that night. In fact, the photo above of Max and Tram is the only photo I took. Poor Max is so tired. He did his best to stay up and meet everyone. Such a sweet little trooper.
Since there are no photos of the food, I'll be lifting the photos from the websites I found the recipes on. This one is from Inspired by Charm.
In case you don't recall how my Christmas Potluck works, I send out the invite and when I have a good idea of how many will attend, I send out an email with the selection of recipes to choose from with links to each recipe. It's a strictly enforced, "first come, first served." Each guest "replies to all" with the recipe they will be making. This year was a new record – 70% of the guests responded within 4 minutes of that email going out!
Stay tuned in the days to follow, there will be another dozen recipes along with the super fun and festive cocktails I served. And the best part, there are photos of those! Thanks to my girl, Mary, who took some great pics! Thank you, Mary! xoxo
Below is my son, Connor's, recipe choice. So cute!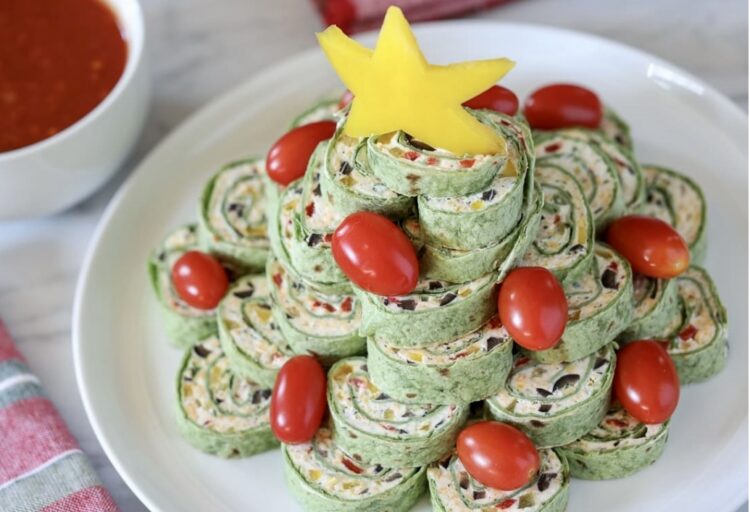 Tortilla Roll-up Christmas Tree with Salsa
2 packages (16 ounces) cream cheese, softened
1 package Ranch dressing mix
4-ounce jar pimentos, drained and patted dry
4-ounce can diced green chilis, drained and patted dry
2.25-ounce sliced black olives, drained and roughly chopped
2 green onions, chopped
1/4 cup chopped yellow pepper, plus a piece cut into a star shape
3/4 cup finely shredded sharp cheddar cheese
Four 12-inch green flour tortillas
10-12 cherry tomatoes
Salsa for serving
In a large bowl, mix together the softened cream cheese and the ranch dressing mix until evenly combined.
Then add the pimentos, green chilis, black olives, green onions, yellow pepper, and cheddar cheese. Stir gently until they are evenly distributed in the cream cheese.
Divide the cream cheese mixture into the four tortillas. Then, using a spatula, spread the mixture on each tortilla in an even layer. Keep the mixture a 1/2 inch from the edge.
Roll up the tortillas. Set them on a plate and cover them with plastic wrap. Chill in the refrigerator for about 2 hours or until firm. Then using a serrated knife, cut the tortillas into 1/2-inch slices.
Stack in layers to form a "tree." Garnish with cherry tomato "ornaments" and a yellow pepper "star." Serve with salsa.
Serves 8-10