Barcelona day 2
I consider myself a "seasoned traveler."  If anyone knows how to start a trip off on the right foot, it is me!
Let me give you a prime example of my expertise…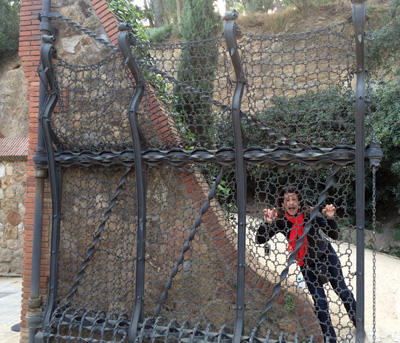 On what was to be our first non-zombie-day (as Lorraine called it) I woke up at about 6:30 (after going to bed at 7 PM the night before) and stayed in bed for a time, formatting photos for this blog. I decided I needed some tea, so I put on a pair of socks and walked toward the kitchen, making a slight detour to set my computer on the coffee table as I passed by it.
I know — how exciting, you're thinking to yourself!  But here, my friends, is where it all went wrong…
I ran directly into the coffee table with my left socked-foot so hard that it took every ounce of self-control and determination to NOT scream out in pain… which would have promptly awoken my two sleeping beauty friends. I hopped around, sucked in a ton of air and tried not to moan and cry.  Here is the result of my clumsiness….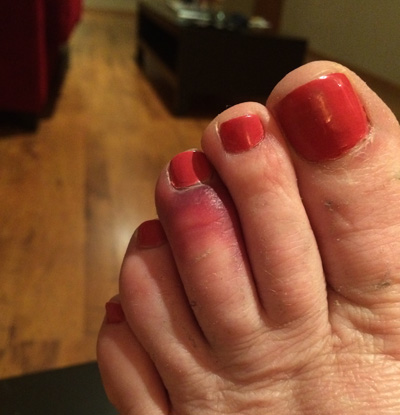 A possibly broken middle toe.  No, that is not a manicure gone wrong, that is not pink nail polish on my skin. And yes, that is the coffee-table-culprit in the background.
Now that is how you start a nearly two-week European vacation, heavy on the walking, off with a bang! If you think a broken little toe is going to keep this girl down, you are wrong.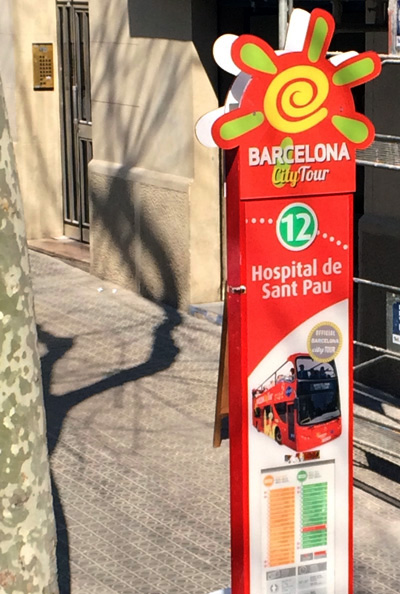 For Day Two in Barcelona, we got ready and walked toward the Sagrada Familia, where we planned to jump on double-decker autobus to tour Barcelona.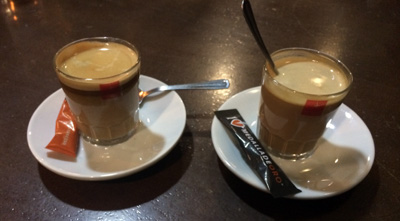 We stopped and had breakfast first and then popped into a corner farmacia to buy some tape for my toes.
Before I tell you about the great day we had touring, I must show you some of the "local color" we spotted on the bench next to us.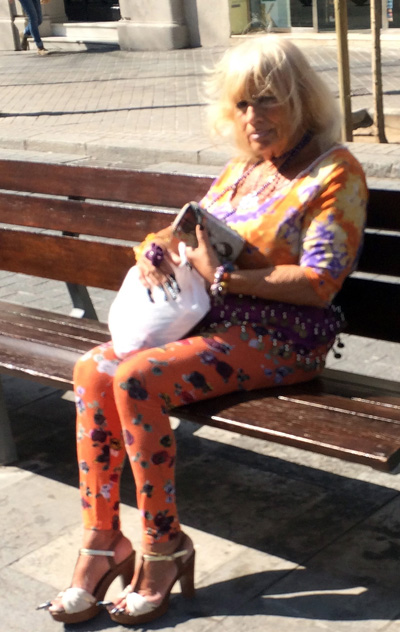 I know it looks as though this woman knew I was taking a photo of her, but in reality, Peggy was standing to the left of her and I took a photo of Peggy and just made sure I got Miss Orange in the frame too. Then I cropped Peggy out so that you could see this woman in all her glory and not be distracted by anyone else.  Did you zero in on those fingernails? How about the toenails? Let me zoom-in on those puppies for you…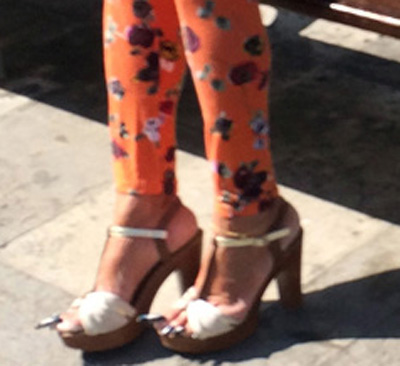 Yeah, it make me feel a little better about my disgusting toe! Alright, enough with our foot fetish. Upward and onward!
We jumped onto the autobus in front of Sagrada Familia and then proceeded to take a 2-hour tour around the city.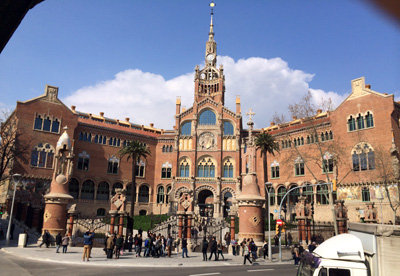 We drove by the beautiful Hospital de Sant Paul, Park Guell, Port Vell, Port Olimpic …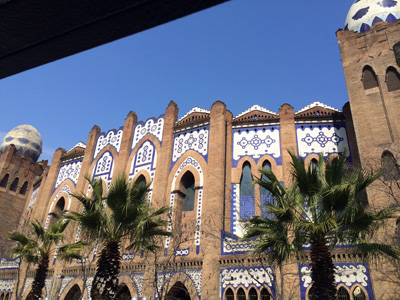 … Plaza de Toros Monumental and many more historic and beautiful sights.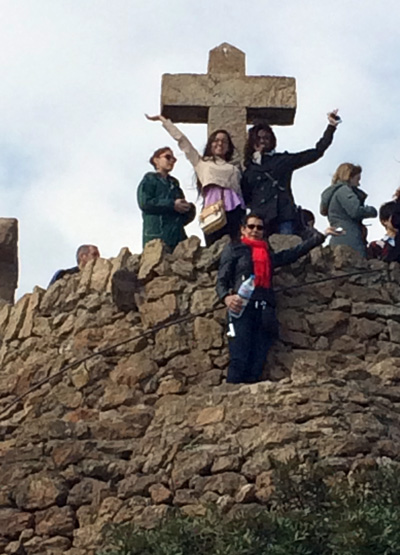 We got off the autobus and walked up a tall hill and then rode up two escalators to Park Guell.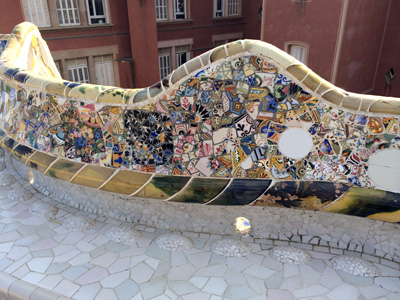 Park Guell is a colorful and fanciful Gaudi designed park overlooking the city.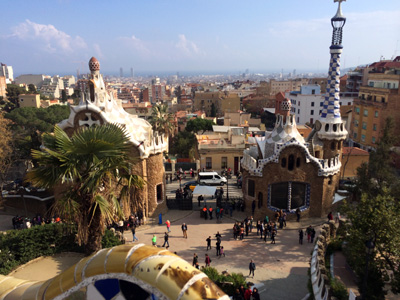 It was supposed to be a gated community about a century ago but it failed so the Parks department took it over and turned it into the tourist attraction that it is today.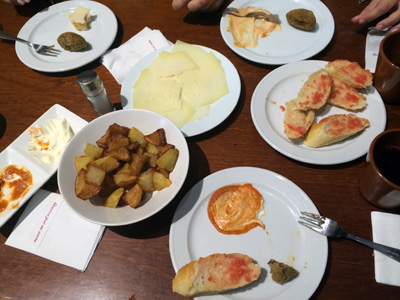 By now, my toe was throbbing, and we needed to find a place for lunch and alcohol!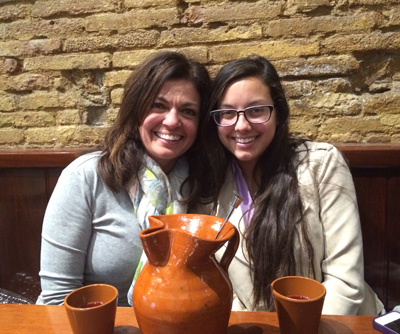 After tapas and sangria we shopped a little and picked up some wine and dessert to take to dinner.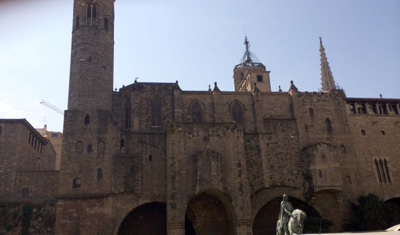 We were invited to dine at Natalie's host family's home. The family consists of a mother, Imma, and her 6-year-old daughter, Olivia. Oh, and we brought a toy for Olivia too.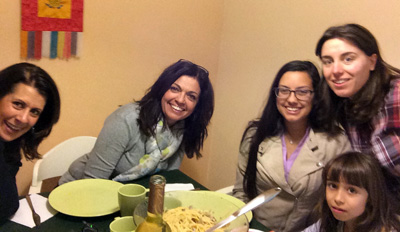 We took the metro to their home and enjoyed a delicious home cooked meal and the most delightful evening imaginable.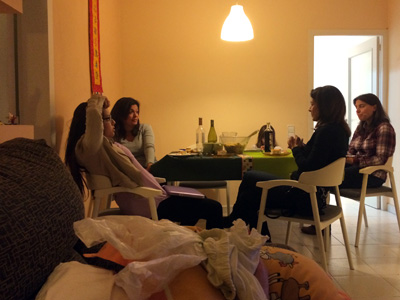 By the way, I am in the above photo too.. that is my foot with a bag of ice on it, in the foreground.
The only downside was the metro ride home. A soccer game has just let out and the metro was unbearably crowded and hot. But, all in all, it was a perfect day… bruised, throbbing, possibly broken toe and all.