a day at the beach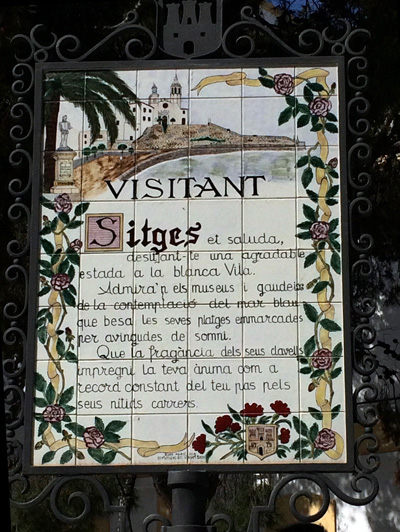 Tuesday was our most laid back day of the trip this far. Natalie had classes all day, so we took the opportunity to go to the ocean-side town, Sitges.
Sitges is a town about 35 kilometres southwest of Barcelona, renowned worldwide for its Film Festival and Carnival. Located between the Garraf Massif and the sea, it is known for its beaches, nightspots, and historical sites.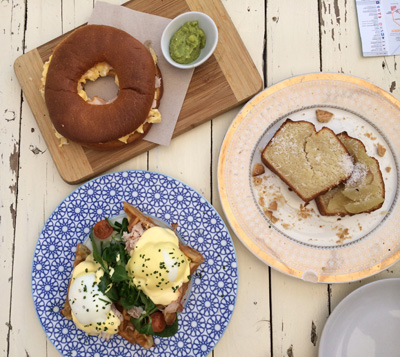 But before we left, we HAD to go back to Brunch & Cake for breakfast! It was a need, more than just a want!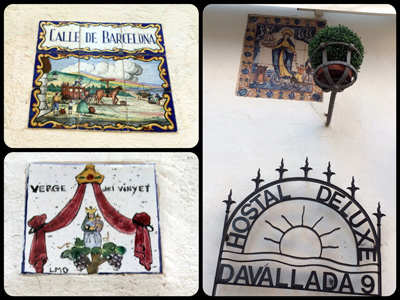 It was a 40 minute train ride from Barcelona. Before we saw our first beach, the first thing I noticed was all the beautiful signs made of tiles.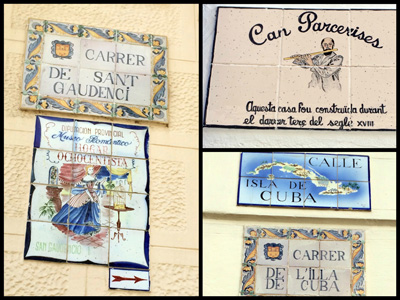 They were everywhere, both plastered directly into the walls or inserted in iron frames.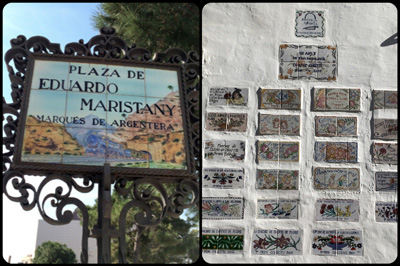 These are just a few of the many pictures I snapped of them all over town.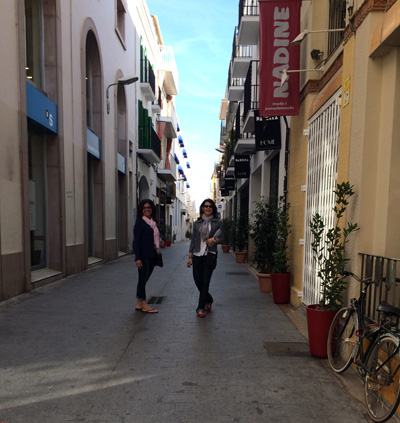 Basically what we did all day was walk the pretty shop-lined streets, gaze upon but not venture anywhere near the gorgeous water, eat tapas and drink wine.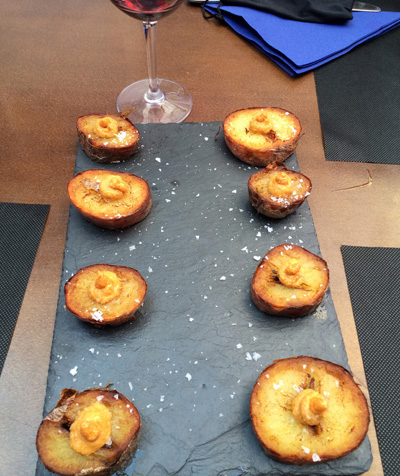 At our first tapas and vino stop we had these amazing patatas bravas. I will most certainly be recreating them when I get home! With tummies satisfied, down to the ocean we went.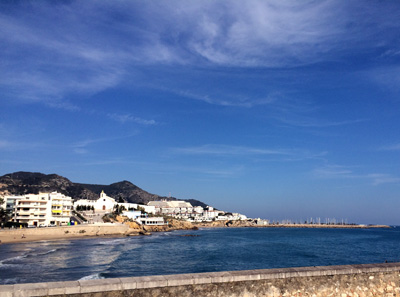 As we inhaled the fresh sea air and took in the beauty…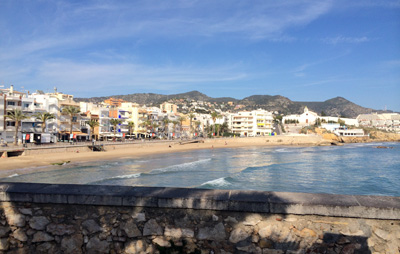 … we rounded the corner …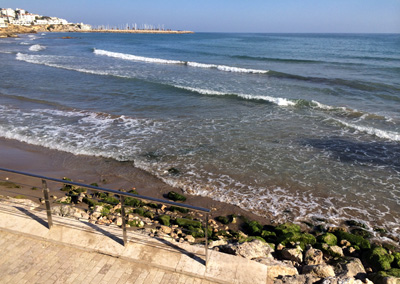 … and spotted something not quite so beautiful..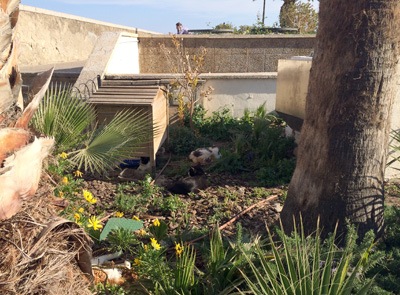 … a little corner plot that the locals had made into a feral cat community. It stunk to high heaven and there were dozens of large stray cats. At this moment, our fortunes nearly changed for the worse.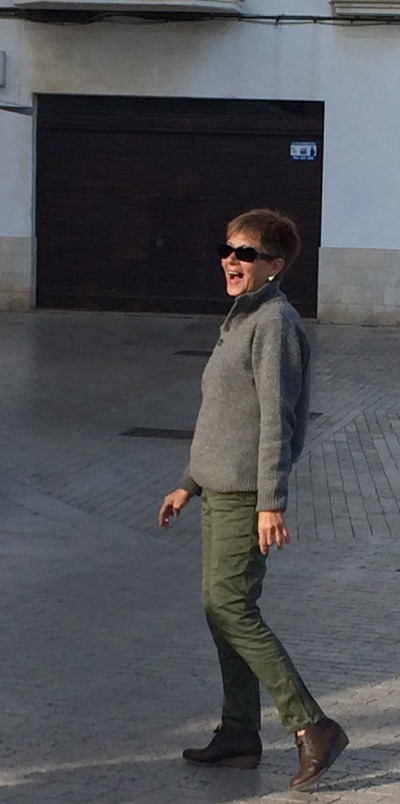 This is what went down. When we saw and smelled the cats, Peggy, who is far from what anyone would call a cat-lover, made some rather loud comments about her displeasure with this nasty little cat community. This woman was nearby and laughed and struck up a conversation with Peggy and Lorraine. I was busy taking photos, so I didn't hear anything until I heard her invite us to join her and her friend for a drink. Pilar, which is the name she gave us, was quite charming and seemed fun. The three of us followed her over to a nearby restaurant patio and from the moment we approached the table, the hair on the back of my neck stood straight up.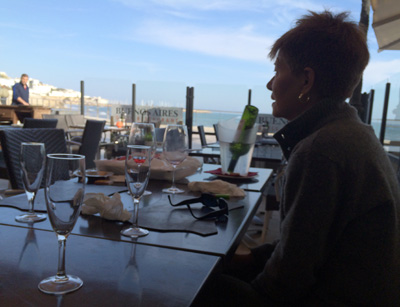 We sat down with Pilar and her friend, Richie, and it was immediately obvious that they had been there for quite sometime. My first thought was, they are going to try to stick us with their entire bill. Unbeknownst to me, Peggy and Lorraine were having the same gut reaction. We each ordered a glass of wine and took turns using the WC. Lorraine, in her inherit wisdom, paid for our vino while she was inside.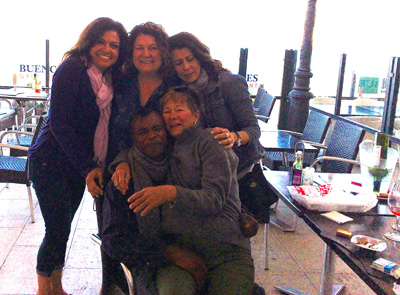 We couldn't pinpoint exactly what scam they were trying to run on us, but we were happy to get away with our purses, dignity, and who knows what else when we got away from these two. Pilar insisted we get a photo together, and I insisted that the waitress use my phone to take it.
So there you have the story of our "close call" adventure. An adventure because we all believe we avoided being scammed by these grifters (A grifter is someone who swindles you through deception or fraud.) Moral of the story – always follow your instincts, especially when three of you are feeling the same thing!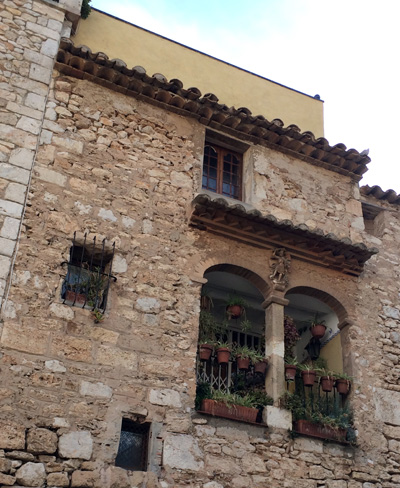 Once we eluded the grasp of the grifters, we made our way down more pretty little streets and we stumbled upon a red stone in the shape of a heart in the middle of the road.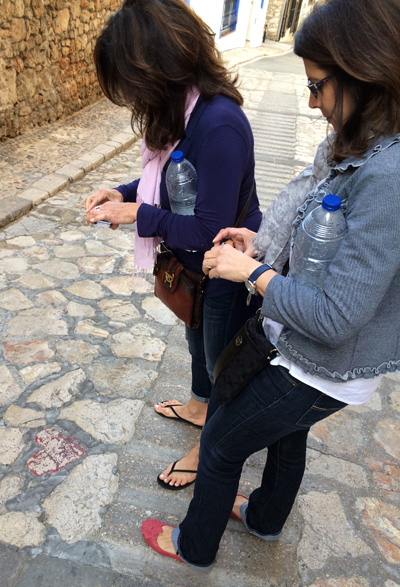 Of course, all three of us whipped out our cell phones.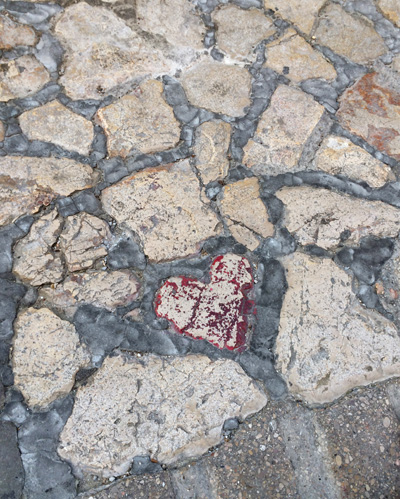 There were actually many heart-shaped rocks. It's easy to spot another larger heart at the top of the photo. A positive sign for us!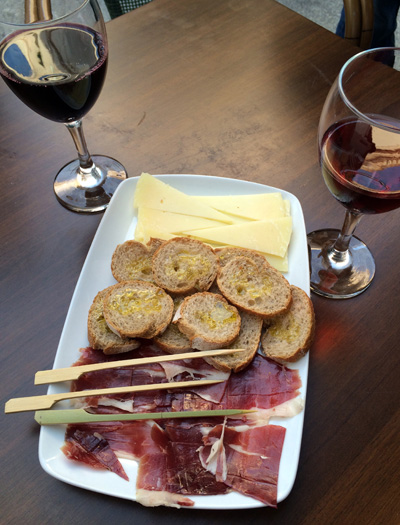 Our next vino and tapas spot was our favorite. This jamo?n ibe?rico was to die for!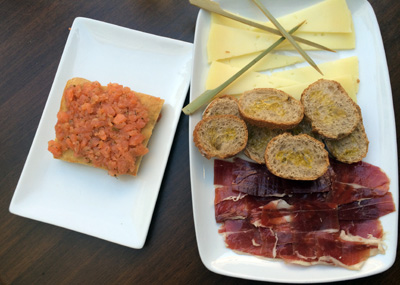 So much so, that we ordered a second helping, along with a smoked salmon tapa.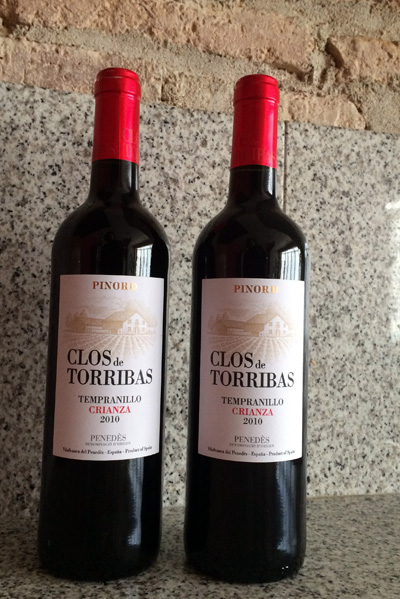 Plus, the wine was outstanding, so much so that we bought two bottles to take to our apartment.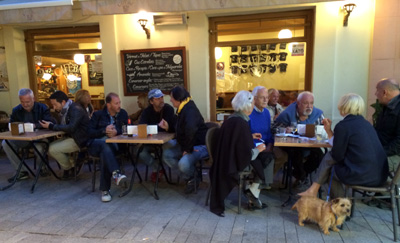 Honestly, I could go on and on about our day in Sitges.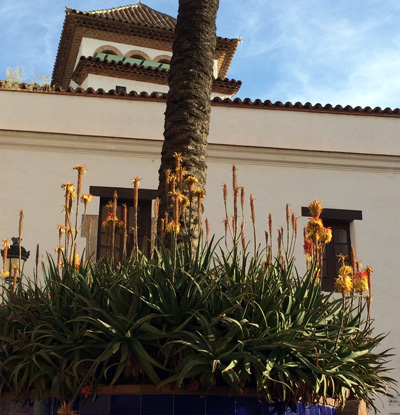 And post dozens of beautiful photos. Instead, I leave you with this…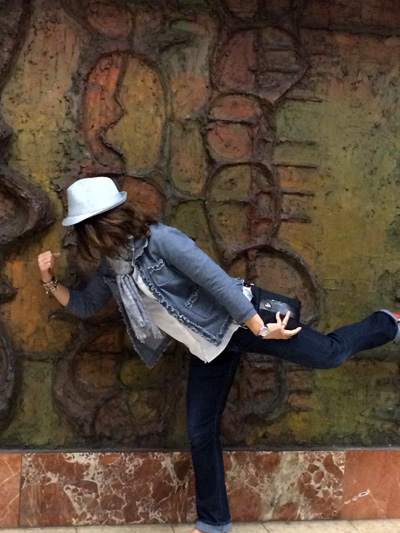 … a photo of our hero, Lorraine. Posing in front of a cool metro wall that we saw on our trip home. Thank you, Peggy and Lorraine, the best travel companions ever!