the birthday dinner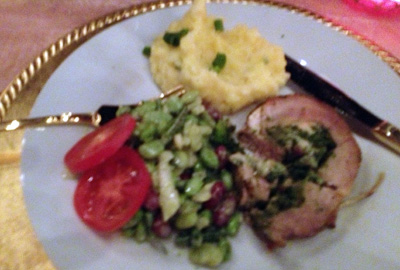 For our sit-down birthday dinner we had stuffed pork loin, green onion and Parmesan mashed potatoes, and a cold succotash side dish. The potatoes and the succotash have been posted here before, there are links to those recipes near the bottom of this post.
Peggy is not a big fan of beef. Occasionally, she'll indulge in a hamburger, but put of plate with beef tenderloin in front of her and she turns her nose up at it. (I know, sometimes I think there is something wrong with that girl!)
It was a blessing when you're feeding 25 people, though! Beef tenderloin would have been on the expensive side, to say the least. But a pork loin – now that is doable!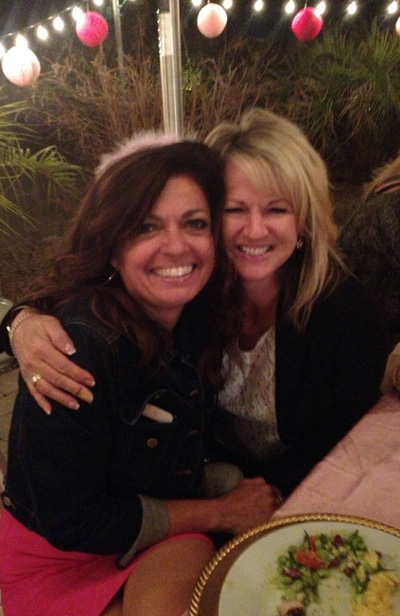 I was initially planning to use pork tenderloin, but when I compared the price of the loin to the tenderloin – well that made the decision for me. I purchased two huge pork loins at Costco, they were about $18.00 each.
This recipe would work just as well using beef tenderloin, so choose whichever you prefer. If you can't find Manchego cheese, use Monterey Jack or Pepper Jack instead.
For the pesto, feel free to use store-bought prepared pesto. I made my own because I had two guests who are allergic to nuts. I am linking you to my homemade pesto recipe, which is what I used, sans the pine nuts – and with a bit of spinach added in place of the nuts for more texture.

Grilled Pesto and Manchego Stuffed Pork Loin
1 large pork loin, trimmed of all visible outside fat
1 cup pesto
Ten to twelve 1/2-inch-thick long strips of Manchego cheese
3 or 4 strips of limp cooked, thick-sliced, center-cut, bacon; do not cook till crisp
3 whole green onions, washed well
3  to 3  1/2 yards of kitchen string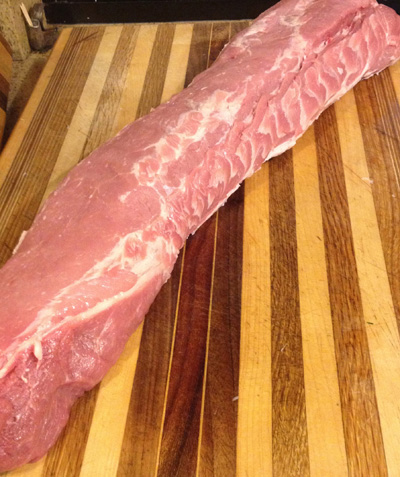 Heat a grill to medium-high and preheat an oven to 350 degrees.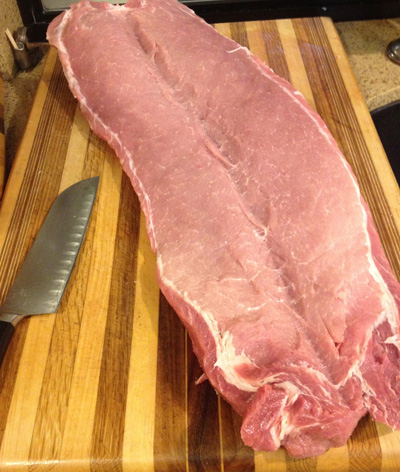 Butterfly the loin, cutting lengthwise, but not quite all the way through the center; so it opens up like a book, as pictured above.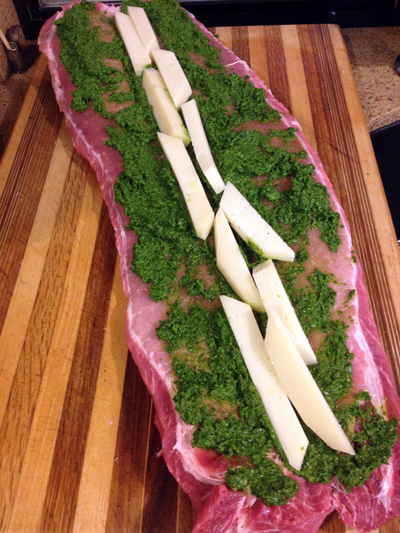 Spread the pesto on the inside of the meat. Lay the cheese strips down the center as pictured.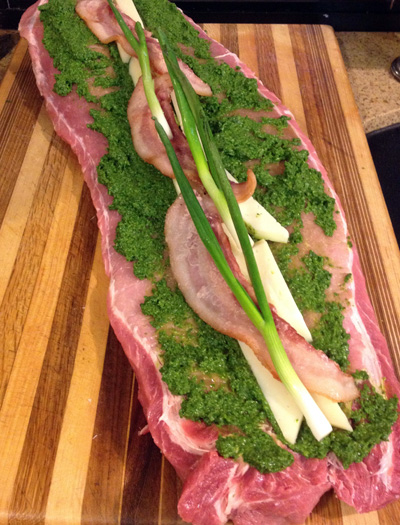 Lay the limp cooked bacon strips and the whole green onions down the center, on top of the cheese, as pictured.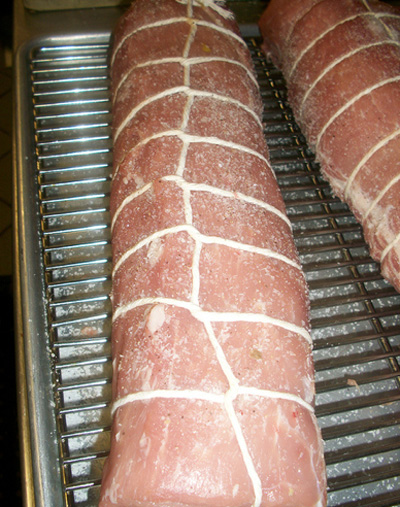 Close the meat, as if you are closing a book. Use kitchen string to tie it closed. Season with salt and pepper.
It is very difficult to explain how to tie a loin like this. Instead, please go to THIS VIDEO and skip to time-marker 4:10 to watch a butcher explain how to tie a beef tenderloin.  The full video shows how to trim a whole tenderloin, so if you're interested in learning how to do that, start at the beginning of the video.
Place the tied loin on the hot grate of the preheated grill and cook, turning until all sides are browned. Remove meat to a baking sheet and finish cooking in the preheated oven until an instant-read meat thermometer registers an internal temperature of 145 degrees when inserted into the thickest portion of the meat, about 25 – 35 minutes, depending upon the thickness of the loin.
Remove the pork from the oven, cover loosely with aluminum foil, and let rest for 10 minutes before carving.
Serves 12 to 14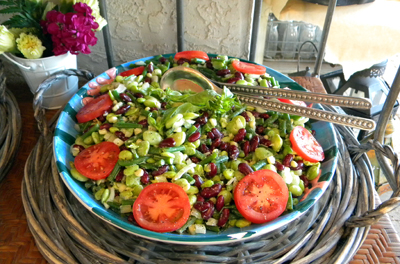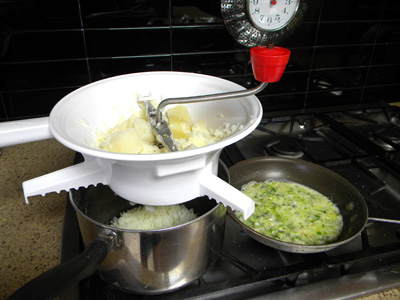 Another fun birthday party story I have to share has to do with a double magnum of champagne we cracked open for the party.
A couple years ago, while staying at the Carefree Inn for our anniversary, Dave and I stumbled into the ballroom where they were having a big remodeling sale. There was a double magnum of champagne for sale. It had been used as a prop during big parties by the resort. The condition of the label made me think it was well past its prime, but it was only $20, so we bought it. We've had brunches, cocktail parties, and dinner parties over these last couple years where we fully intended to open it, but always forgot. Finally, I remembered and chilled it down for this event.
Dave and I fully knew that the chance of the liquid inside the bottle being at its best was slim. We took it over to the lawn and Dave tried and tried and pry out the cork. It would not budge.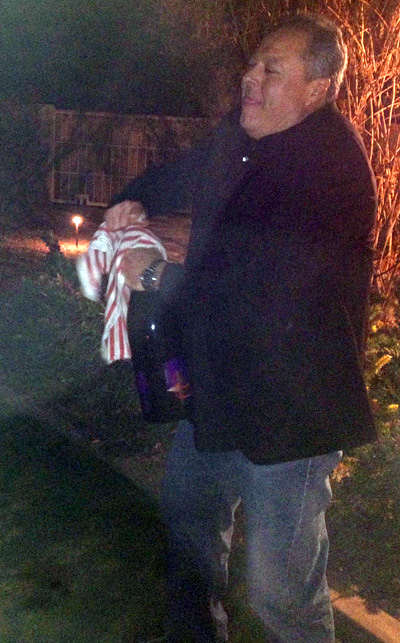 We called over Peggy's brother, John, and he gave it a shot. Nope, nothing doing, in fact the cork broke off in John's hand.
Let me preface this by saying that by this time of the evening, I, and probably these two guys too… well, our brains were not running on all cylinders, if you get my drift.  As a result, one of the three of us "geniuses" decided that we should just use a corkscrew. I'm not going to say which one of us had that bright idea – only because I can't remember, otherwise I'd so totally play the blame-game!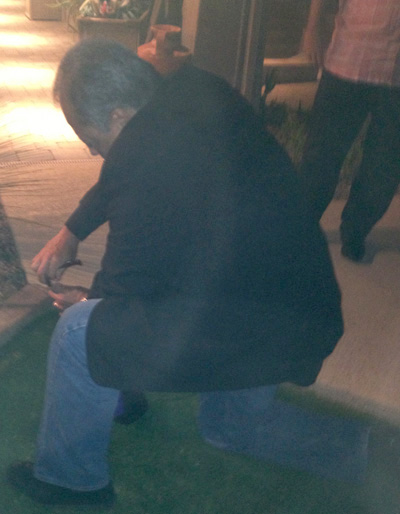 Not a brilliant move. I would never suggest that anyone do the same, but luckily for us, the champagne had gone completely flat. So, no eyes were poked out or chins blown off.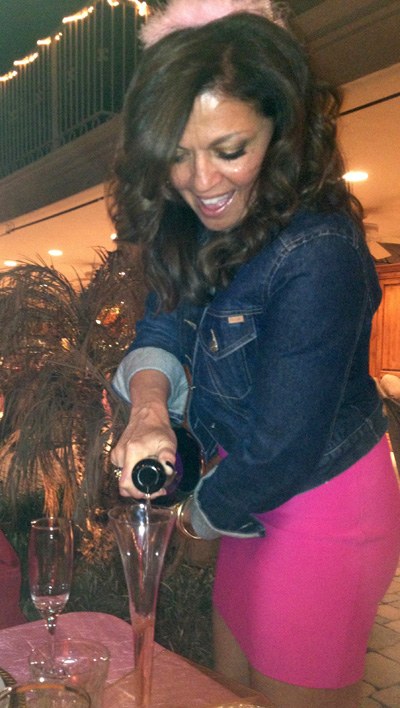 The resulting "wine" was actually very tasty and Peggy did the honors of pouring it for everyone.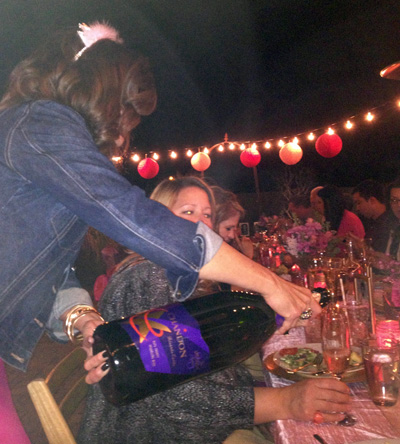 Tomorrow we'll finish up the party posts with dessert!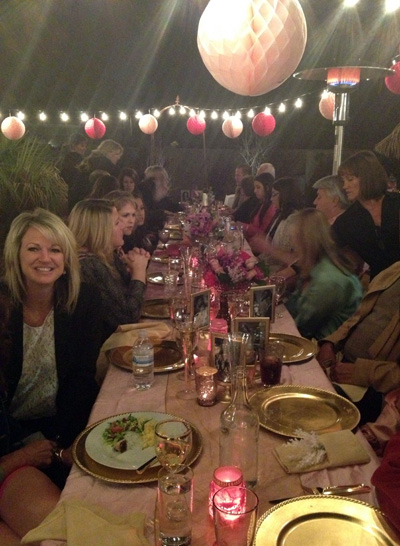 Smile, Annie! xoxo