hop, hop, hop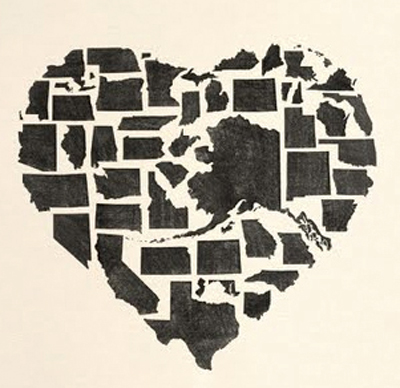 I have a bad habit of taking a "snapshot" of images I see online that I like, putting on my desktop and then eventually into a folder and forgetting about them for a long time.  Later, when I want to use it, like the one above – which I really LOVE, I have no idea who or where to credit it to.  Needless to say, that is not my image, but it is super wonderful! Isn't it?

Before I even tell you what today's recipe is, let me say that the dry rub is a wonderful staple to have on hand and is great on any meat or poultry.  And the lemon garlic butter sauce is another fantastic staple, perfect for baked, broiled, or grilled fish.  That said, today we are making…. oh wait, a little story first.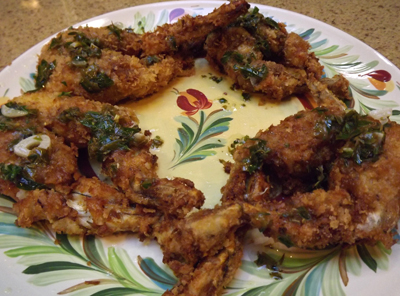 I've had the extreme pleasure and joy to have traveled to France many times and one of the menu items I search out and like to try at various establishments is frog legs. It is often said that frog legs taste like chicken because of their mild flavor, with a texture similar to chicken wings. This is true, but what I enjoy is the mild fish taste too, the best of both worlds.  The very best frog legs I've had in my life were not in France, but at Binkley's right here in Cave Creek, Arizona! I'm not certain if Chef Kevin Binkley prepares them the same every time, but the Lemon-Glazed Frog Legs I've had there, are out of this world.
I was at the "big fancy Fry's" looking for crab in the seafood case, and that is where I saw frog legs.  I don't think I've ever seen them in a regular grocery store around here before.  And they were on sale; usually priced at $10.99 per pound, on sale for $4.99 per pound.  So for the just over 2 pounds I purchased, I paid $10.43 and saved $12.54, gotta love that!
I have no clue how to make Binkley's frog legs, I know they weren't fried, but since I wouldn't know how else to cook the little devil's, I fried them up and added a lemon sauce.  They weren't even close to "Binkley's" but they were still darn tasty, comparable to those I've had in Paris!
Not Exactly Binkley's Frog Legs
All-Purpose Dry Rub
2 1/2 tablespoons Kosher salt
2 tablespoons brown sugar
1 1/2 tablespoons freshly ground black pepper
1 tablespoon smoked paprika
1 tablespoon dried oregano, crushed
1 tablespoon dried thyme
Frog Legs
8 frog legs, rinsed
2  1/2 to 3 cups buttermilk, well shaken before measuring
Oil for frying
1 cup flour
1 egg, beaten with 1 tablespoon water
1 1/2 cups panko breadcrumbs
Lemon Garlic Herb Butter Sauce
1/4 cup (1/2 stick) unsalted butter
1 tablespoon garlic, sliced thin
1/4 cup mixed fresh herbs; such as basil, thyme, and parsley
2 tablespoons fresh lemon juice
Dry Rub: Mix all ingredients together and store in an airtight container for up to 6 months.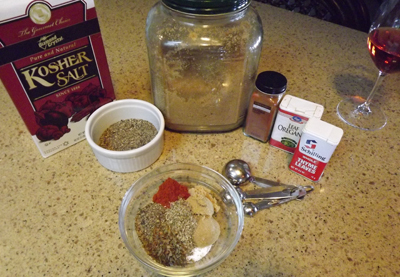 Makes about 3/4 cup
Will cover about 5 pounds of meat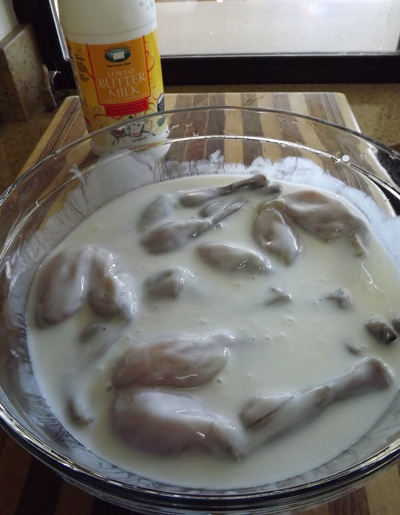 Frog Legs: Place frogs legs in a large bowl and pour buttermilk over to cover, soak for at least 1 hour (at room temperature) and up to 4 hours (covered and refrigerated).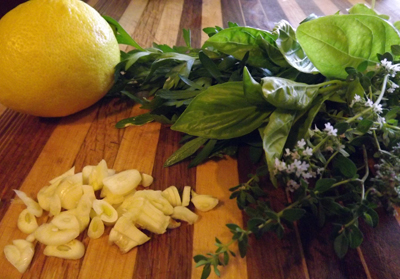 Lemon Garlic Butter Herb Sauce: While frog legs are soaking; melt butter in a small saucepan, add the sliced garlic.  Sauté the garlic just until it begins to turn light golden brown. Add the herbs and remove from the heat. Carefully, add the lemon juice. Season with salt and pepper.  Set aside.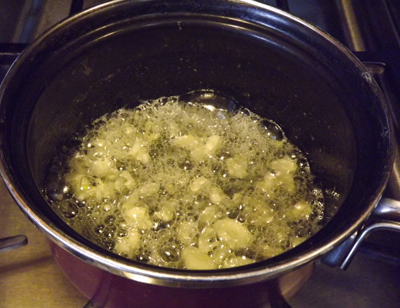 When ready to fry frog legs, heat oil in a large pot or deep-fryer to between 360 and 375 degrees.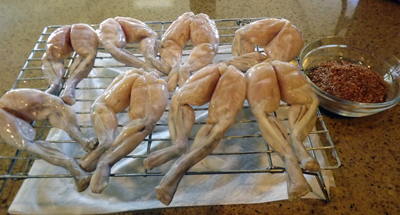 Remove frog legs from buttermilk and drain on a rack for 2 o r 3 minutes. Turn over and drain on the other side for another couple minutes.  Apply dry rub to the frog legs, coating well.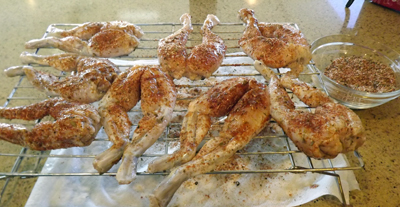 Place flour in on a flat plate and toss frog legs in flour, then coat with egg wash, then coat completely with panko.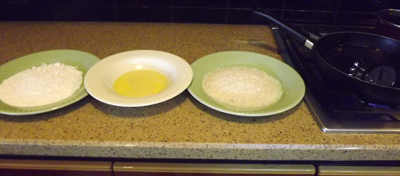 Carefully slip into hot oil and fry for roughly 6-8 minutes or until golden brown. Remove from the oil with tongs, and drain on paper towels. Reheat butter sauce; drizzle over hot frog legs and serve.
Makes 8