goodbye summer! hello grilled chicken, peach, and fig salad with blueberry vinaigrette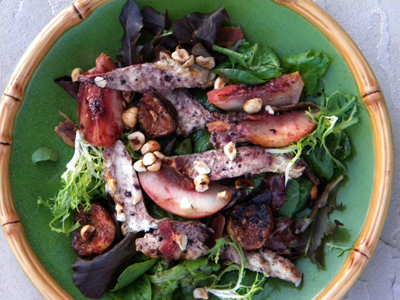 Summer was officially over Monday, but it lingers here in Arizona for quite some time to come!  This is a gorgeous and refreshing summer salad.  No need to heat the kitchen, just fire up the grill. I serve this with a cold and crisp Rosé wine and slices of warm crusty French Bread.  Oh darn, I just realized that you will need to turn on the oven to toast the hazelnuts, oops!  Well, the reason I forgot is because when I bring home a package of hazelnuts, I immediately toast the entire bag and then store them in the freezer and just pull out the prepped nuts when needed, you can do the same and you'll be ready to go for the next recipe that calls for them too, because hazelnuts are almost always used toasted and skinned. To toast and skin the Hazelnuts: Preheat oven to 350 degrees.  Place hazelnuts (also known as filberts) in a single layer of a baking sheet. Toast in the middle of the oven for 12 to 15 minutes, or until lightly colored and the skins begin to blister.  Remove from oven and immediately wrap the nuts in an old (but clean) kitchen town and allow to steam for 2 or 3 minutes.  Rub the nuts in the towel for a minute or two creating a lot of friction between the nuts and the towel, to remove the loose skins.  All of the skins won't come off, so don't worry.  Carefully pick out the nuts and set aside. Shake the towel outside or over a trashcan, be careful or those little skin bits will be all over the kitchen. You will want to use an old towel because the skins will stain the towel, so just wash it and use it the next time you are preparing hazelnuts.

Grilled Chicken, Peach, and Fig Salad with Blueberry Vinaigrette
Vinaigrette
2 tablespoons red wine vinegar
1 tablespoon balsamic vinegar
1 clove garlic, peeled and minced
1 small shallot, peeled and minced
1 tablespoon Dijon mustard
1/4 teaspoon salt, or to taste
1/8 teaspoon freshly ground black pepper
1/4 cup olive oil
1/3 cup blueberries, fresh or frozen and thawed, pureed

Salad
2 boneless, skinless chicken breast halves
4 fresh figs, stemmed and halved
2 ripe nectarines, halved and pitted
2 tablespoons olive oil
Salt and freshly ground black pepper
8 cups mixed greens and/or baby spinach
5 strips bacon, cooked crisp and crumbled
1 cup toasted and skinned hazelnuts, coarsely chopped
Vinaigrette: Whisk red wine vinegar, balsamic vinegar, garlic, shallot, mustard, salt and pepper in a medium bowl. Drizzle in olive oil while whisking to emulsify.  Stir in blueberry puree. Chill until ready to serve.  Makes about 1/3 cup.
Salad: Preheat a gas or charcoal grill, or place a grill pan over medium-high heat. Lay the chicken breasts between 2 sheets of plastic wrap. Pound chicken with mallet or the bottom of a skillet to 1/3-inch thickness.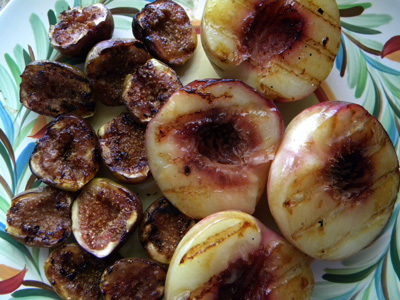 Brush the chicken, figs, and peaches with the olive oil, sprinkle with salt and pepper. Grill fruit for 2 minutes on each side and chicken for about 3 minutes per side, until cooked through. Transfer chicken and peaches to a cutting board, allow to rest 2 minutes, then slice chicken in thin strips on the diagonal. Slice each of the peach halves into 4 wedges.
Place the greens in a large bowl and toss with 1/2 of the vinaigrette. Divide greens between four dinner plates. Place the chicken, peach wedges, and fig halves in the same bowl and toss with the remaining vinaigrette. Top the greens with the chicken and fruit, dividing evenly. Crumble the bacon over the top and sprinkle with the hazelnuts. Serve immediately.
Serves 4