desert peach dessert!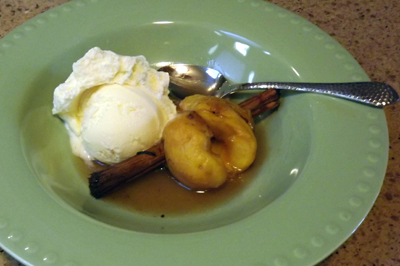 These grilled peaches are the epitome of easy breezy and oh so delish!  Between this dessert I served on Father's Day and classes last week, I've finally used all the peaches from my tree. But that doens't mean we're done with peach recipes, far from it. One of the desserts for the teen graduation lunch on Friday was peach shortcakes, and there are SO many juicy cubed peaches leftover from that… I'll be making "peach-fill in the blank" all weekend… recipes to follow, of course.  No quantities for this recipe, just make as many or as few as you need.
Cinnamon Grilled Peaches
Ripe peaches, cut in half and pitted
Melted butter
Brown sugar
Ground cinnamon
Cinnamon sticks
Vanilla Ice Cream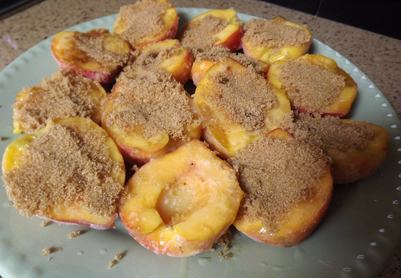 Brush melted butter over cut side of peach halves. Generously pat on brown sugar, filling in the cavity left from the pit, and lightly sprinkle with ground cinnamon.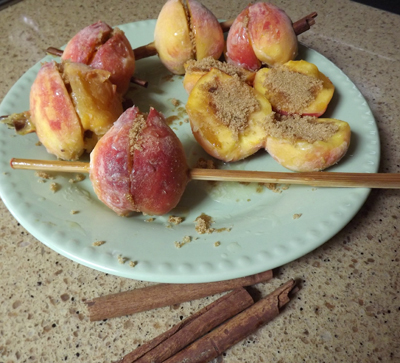 Press the two halves back together and use a chopstick or skewer to poke a hole through the center. Remove chopstick in insert cinnamon stick in the hole you've created.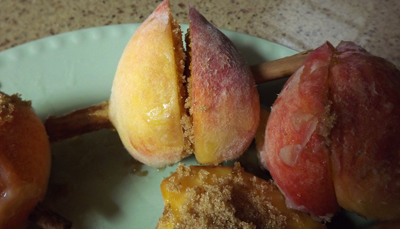 High grill to medium high heat and brush grates with oil. Place skewered peaches on grates and grill for about 8 to 10 minutes, turning occasionally.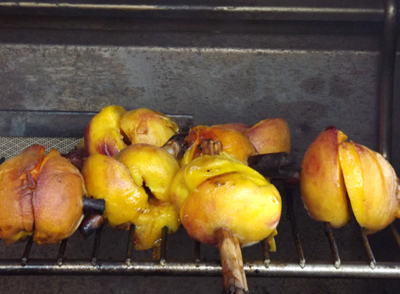 Remove from grill, place one whole peach on each dessert plate and serve with a scoop of vanilla (or better yet, cinnamon) ice cream.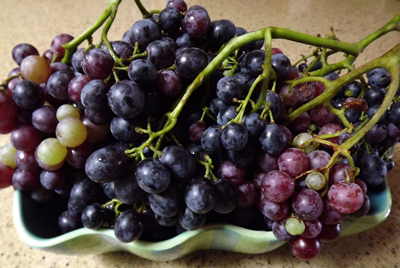 OK, these grapes have nothing to do with the peaches, except that we had them on Father's Day too.  My dad brought over a huge bag to share with us because a gentleman from his church shared the grapes with him.  And the man grew them in his yard… wow! Aren't they gorgeous?!?!  Now what to make with all the grapes I have in my fridge….