deviled eggs fit for Popeye…and Olive Oil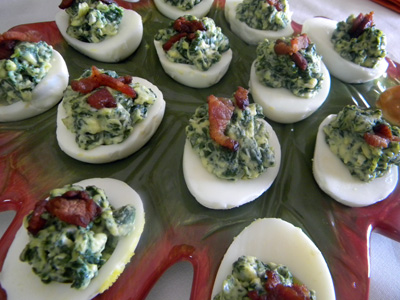 I barely have a second to get this post up today.  So this is all I have to say, "If you know of a more delicious deviled egg in the entire world, please send me the recipe."  In my humble opinion, these cannot be beat!
Spinach Deviled Eggs
12  eggs,  3 to 5 days home from the store*
8 bacon strips, finely chopped
1/4 cup mayonnaise
2 tablespoons vinegar
2 tablespoons unsalted butter, softened
1 tablespoon sugar
1/2 teaspoon pepper
1/4 teaspoon salt
1/2 cup frozen chopped spinach, thawed and squeezed dry
Place eggs in a large pot, cover with cold water that covers eggs by serveral inches.  Bring to a boil.  Take off heat and cover pan.  Allow to sit covered and off heat for 30 minutes.  Gently remove eggs from hot water and place in a large bowl of ice water.  Allow to sit in ice water for 10 minutes.
While eggs are cooking and cooling, prepare the bacon.  Fry chopped bacon in large skillet until crisp, drain on paper towels and set aside.
Remove eggs from ice water and peel eggs.  Slice eggs in half lengthwise; remove yolks and set whites aside.
In a small bowl, mash yolks with a fork.  Stir in the mayonnaise, vinegar, butter, sugar, pepper and salt.  Add spinach and mix well.
Spoon or use a pastry bag to pipe the yolk mixture into egg whites.  Top with two or three pieces of crumbled bacon.  Serve immediately.
Makes 24
*It is important to NOT use fresh eggs, as they are nearly impossible to peel! Take it from me, I made these for my mother-in-law's 80th birthday party a couple years back.  I flew into Chicago a day early to do the cooking. My brother-in-law, Tom,  picked me up at O'Hare and we drove directly to Costco.  We went to his home and I hard-boiled  3 dozen eggs. Now just picture me peeling 36 eggs – the shells will NOT come off cleanly and  I end up with nasty torn and ragged eggs – after hours of cursing, crying and wanting to scream!  P.S. Thanks for hearing my cries and coming upstairs from your work to help me Tom!