chili crusted birthday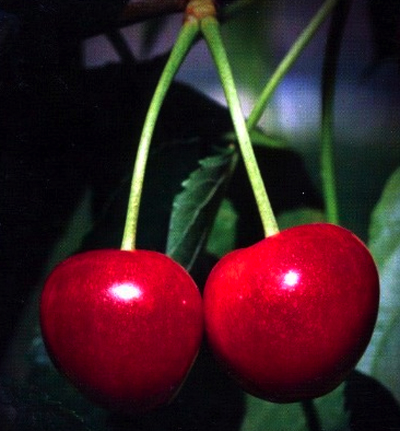 Tonight is the big Cookbook Happy Hour. In the next week, I'll post recipes for the drinks and appetizers we enjoyed; including drink recipes for those infused vodkas I made at the end of July.  Now a little rundown of the blog birthday official numbers…
2 years
730 days
668 posts
577 recipes
1,508 comments (Thank YOU!)
11,876 spam (what the heck?!?)
Enough reflection – time for a recipe #578.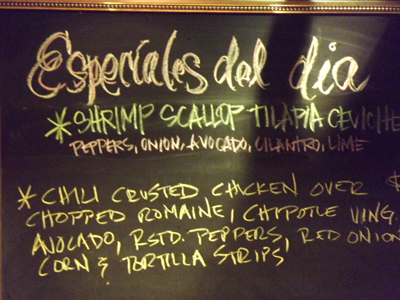 Another place that Kathy took me out to eat while in Florida was to Rocco's Tacos in West Palm Beach.  Cute name, nice place, with a huge menu.. but really, we had to order tacos for lunch.  With that name, it wasn't really much of a decision. The tacos were satisfactory, the sangria and guacamole yummy, but what intrigued me was the special salad of the day. I dissected it and made it for dinner last night… it is a winner.  Especially the chipotle vinaigrette I created. It would be awesome on a potato salad or coleslaw too. Check it out and see if you agree.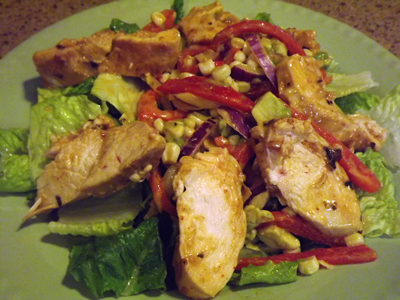 Romaine Salad with Chili Crusted Chicken and Sweet Chipotle Vinaigrette
Sweet Chipotle Vinaigrette
2 tablespoons fresh orange juice
1 tablespoon pure maple syrup
1/4 cup olive oil
1 tablespoon Sherry vinegar
1 teaspoon fresh lemon juice
1 small canned chipotle chile in adobo plus 1 teaspoon of the adobo sauce
1/2 teaspoon salt
2 tablespoons peeled and finely diced red onion
Freshly ground black pepper
Chili Crusted Chicken
1 large lemon
1 teaspoon dried oregano
1 teaspoon chipotle chili powder
1 tablespoon peeled and minced garlic
2 tablespoons olive oil, divided
2 or 3 boneless skinless chicken breasts
Salad
2 hearts of romaine; washed, spun dry, and torn into bite-size pieces
1/2 cup thin red onion slices
1 cup roasted red pepper slices
1 avocado, peeled and thinly sliced
1 cup fresh or frozen corn, thawed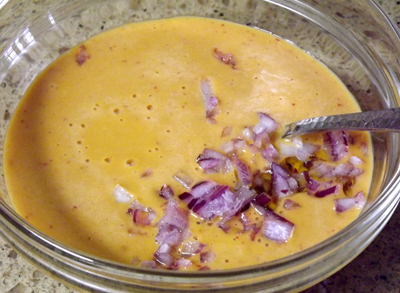 Sweet Chipotle Vinaigrette: Place all ingredients, except the red onion, in a blender or food processor and blend until smooth.  Transfer to a bowl and stir in the red onion.  Taste and season with salt and pepper as desired.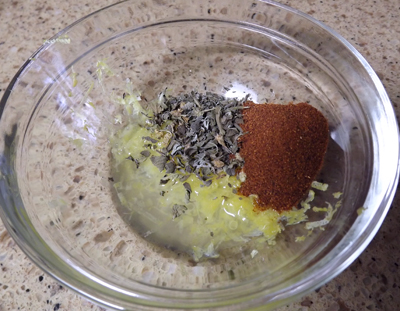 Chili Crusted Chicken:  Zest and juice the lemon into a small bowl.  Stir in the oregano and chili powder to make a paste. Stir in the garlic.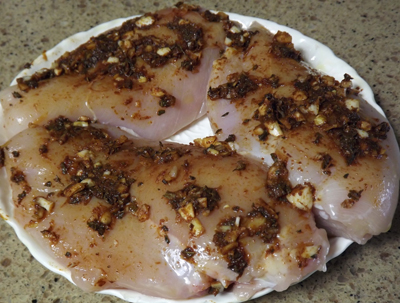 Brush 1 tablespoon of the olive oil over the top side of the breasts and then coat with the chili paste.  Leave the bottom side of breasts uncoated.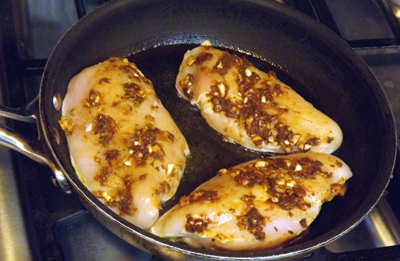 Heat a large skillet over medium-high heat.  Add remaining olive oil and sear the chicken, uncoated-side down.  Cook for about 6 to 7 minutes. 
Turn chicken over onto the top coated-side and cook for 5 or 6 additional minutes, or until chicken is cooked completely through.  Set aside until cool enough to handle, then slice on a diagonal.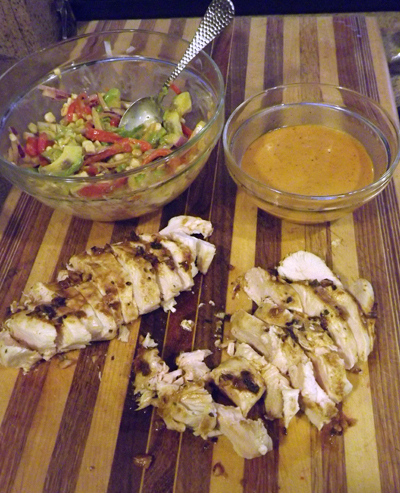 Salad:  Place the romaine in a large bowl and toss with 2 tablespoons of the vinaigrette. Divide evenly between 4 large dinner plates. In the same bowl, add the onion, pepper, avocado, and corn and toss with 2 tablespoons vinaigrette. Divide evenly between the dinner plates, topping the lettuce.  Finally, place the sliced chicken in the same bowl and toss with 1 tablespoon vinaigrette. Lay the chicken slices atop the salad, along the outside edge.  Serve, passing the remaining vinaigrette.
Serves 4

Save