happy birthday, Fitz!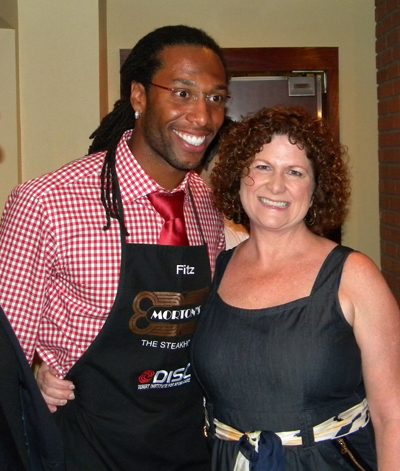 Today is my friend, Larry Fitzgerald's, 27th birthday. Larry and I began cooking together when he was only 22 and I was exactly twice his age (ouch!). He was a star wide receiver even then, beginning only his second season, but now – well, now he's a superstar. Deservedly so! He's beyond talented. Larry has incredible work ethic and is as humble as can be, one of the nicest and most genuine people on the planet. It would be hard for the average person to imagine being as humble as he is, after you watch this amazing video from ESPN Sport Science.
Dave, Marissa, and I attended the Second Annual Larry Fitzgerald & Friends Celebrity Servers Night to benefit The Carol Fitzgerald Memorial Foundation and The Larry Fitzgerald First Down Fund, last night at Morton's. My favorite thing about the photo of us above, is how I'm looking at my camera that Marissa is holding, and Larry is looking at the camera that his professional photog is holding. So neither picture turned out well, so typical!
I snapped about a dozen picture of Marissa with the various Cardinals servers/stars (including Steve Breaston, Darnell Dockett, Derek Anderson, Matt Leinart, Dominique Rodgers-Cromartie (DRC), Beanie Wells, Early Ducet, Levi Johnson, Anthony Becht, Coach Whiz and more; but the picture shown is our favorite. She is between rookie first-round draft pick, Dan Williams (#92) and Calais Campbell (#93) – who is one of the sweetest guys you could meet. I'm talking "puppy-dog" sweet! It was a great night, for a great cause, for the greatest guy around! Happy Birthday Larry! Love you.  xoxo