85 years young!
Happy Birthday to my dear mother-in-law, Patricia Hopkins, who turns 85 today! We are in Rockton, Illinois to celebrate with her.  It was a short five years ago that the whole family threw Mom an 80th birthday party. The pictures here are from that lovely November day, five years ago. The first is of Mom and her three sons; Roger, Tom, and Dave.  In the next, she is pictured with her three daughters-in-law; myself, Beth, and Debra. And lastly, a picture of the birthday buffet. (And now I've added a photo at the bottom from this year's 85th birthday dinner)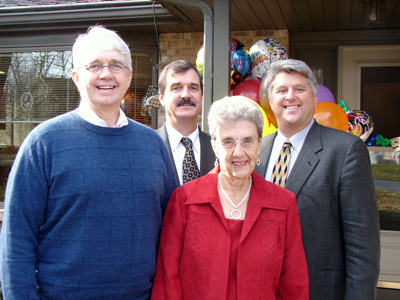 I had flown in a day early to prepare the food. Dave's brother, Tom, picked me up at O'Hare and took me to my usual haunts – Costco, Trader Joe's, and a grocery store. Then he took me back to his house to "get cooking".  Tom retreated to the basement to work while I set up my own work station in his kitchen.  About halfway through the day he came up to find me struggling with about 3 dozen hard boiled eggs.  I had forgotten to ask someone to buy the eggs at least a few days ahead of time… fresh eggs are nearly impossible to peel! Poor Tom and I spent a good hour at it, it was awful!  Otherwise, the party was a wonderful success, and not one soul mentioned the seriously beat up looking deviled eggs.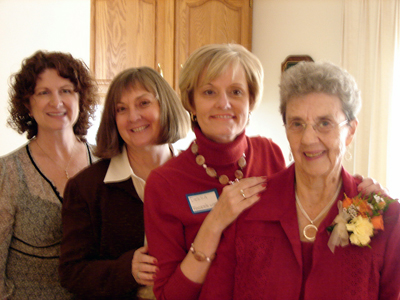 I believe that the one and only reason no one said a thing was because my recipe for Spinach Deviled Eggs is one of the best deviled egg recipes around. That may sound like bragging, but I'm just telling you the truth! They would be perfect for the upcoming holidays… so check them out by CLICKING HERE.
Happy Birthday, Mom! xoxo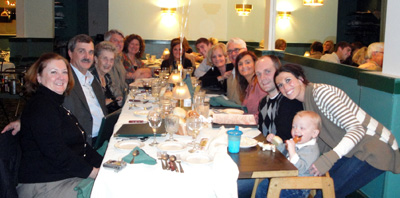 This final photo was added after this post was posted. This is almost the entire family at Mom's 85th birthday dinner. Missing are newlyweds, Katie and Eddie and my two kids, Marissa and Connor. Great-grandson Greyson (great-nephew to me) is up front, looking as cute as he can be. He was the life of the party!