This is the extraordinarily lovely vegetable tart I made for our Easter brunch. I saw it on one of Martha Stewart's social media pages several weeks ago and fell in love. I have to admit, I did run into a few challenges making it though.
I don't think I've mentioned this here yet, but my house is on the market. I packed up boxes full of household items and accessories back in January to make it "show-ready" before we listed it.
My garage has stacks upon stacks and row after row of boxes filled with items from every room in the house. When potential buyers look at your house, they open closets and cupboards, so those had to be pared down too.
I tried to be careful about what I packed away, but inevitably, I have times when what I need is somewhere unreachable in the garage. In the case of this tart, it was the mandolin and the pie weights I needed but were out of reach. It's frustrating, but luckily, I was able to adapt.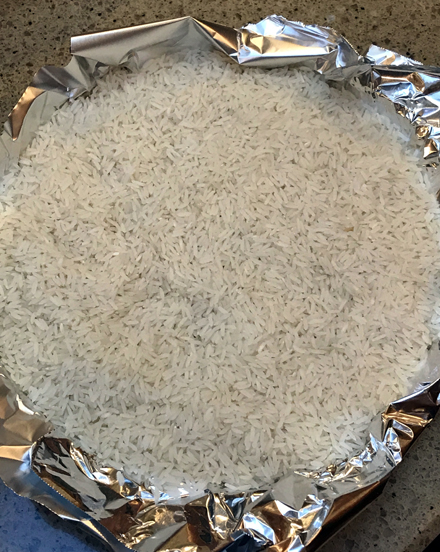 Instead of my mandolin, I used a vegetable peeler for the vegetables and instead of professional pie weights for the blind baking of the tart shell, I went old school and used rice (dry beans work well too).
I'm going to be 100% honest here and tell you that this recipe is A WHOLE LOT of work! To be doubly honest, I'm not sure that it was worth it, I didn't find it flavorful enough. That being said, please don't let those statements stop you for reading on! There is a solution to at least half of that proclamation!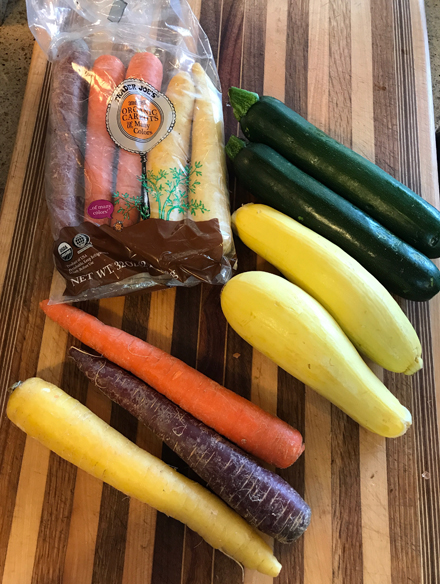 I did modify the original recipe a bit; I added nutmeg to the filling and sprinkled Parmesan on top. I also found that the squash did not need to be blanched, only the carrots needed that treatment to roll easily. And I was lucky and found extra fancy tri-colored carrots at Trader Joe's. They added vibrant extra pops of color.
Everyone enjoyed the tart and thought it was quite good, but for all the time and effort, I didn't think it was good enough.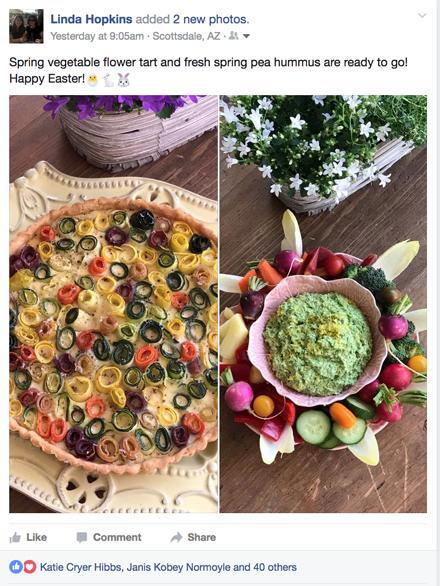 Before we ate it, I posted a photo of it on my Facebook page. My friend, Sue, left a comment saying, "My daughter posted the recipe for the tart to my timeline earlier this week for us to make! You'll have to let us know how it tastes!!"
After I tasted it, I went back to reply to Sue with my thoughts, but before I did, I checked out her timeline and found that the recipe her daughter posted was not the same recipe as the Martha Stewart recipe that I used. After reading over Sue's recipe, I can say that I will make the tart again, but next time I'll be using the recipe posted on her page, it sounds so much more flavorful! Instead of only eggs, cream and Parmesan for the filling and pie dough for the crust, hers added in ricotta, mozzarella, and oregano for the filling and used puff pastry for the crust. YUM! Here is the link for that recipe.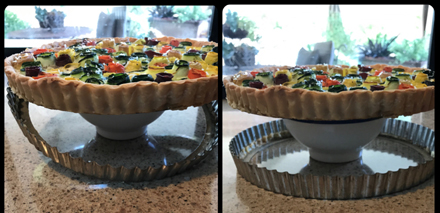 Oh, and if you've ever had difficulty removing the rim from a tart pan and wondered if there is a trick to it… there is! Set the baked tart on a bowl and let the rim just fall right off.  Easy as pie.
There is one fact that is not contested – this is one gorgeous tart!
April 18, 2017 4 Comments