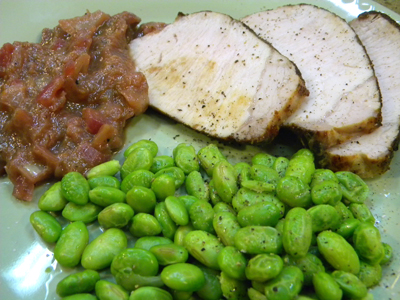 Can you tell that I'm running out of ideas for post titles? Well, I am.  It's hard to be creative with these things, day after day.

  I may soon resort to Pork 5, Chicken 27, and Salad 34. Whatever, this is a pork recipe…
I used up the remaining rhubarb-strawberry compote. If you didn't make the compote, you can still make this recipe, just substitute jam or preserves. I also had small portions of three different onions in my fridge; red onion, sweet onion, and a large shallot, so I combined those to make up the 1 1/2 cups needed for the sauce. Any type of onion will do. The recipe works equally well with pork loin or pork tenderloin, whichever you prefer or find on sale.
September 26, 2011 No Comments