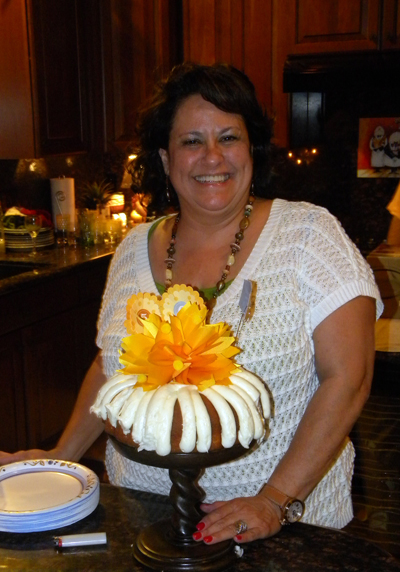 Last night's birthday party dinner for Terrie was a blast. Anytime the Murriettas gets together, nothing less is expected. Please indulge me and I shall share my history with this fantastic family.
Terrie and I have known each other since our grade school days at Navajo Elementary, right here in Scottsdale. We are both native Arizonans. We lived on the border between two high schools, Scottsdale High and Saguaro High. Terrie and her younger sister, Peggy, went to Scottsdale High. Terrie's three older brothers, Vince, Mark, and John, went to Saguaro, as did I. After Navajo, Terrie and I lost touch and I only knew of her brothers as the "big men – the jocks" on campus.
Fast forward 12 years to 1991. Dave and I are in our second house and have just had our second child, Connor. We live in a cul-de-sac and our backyard fence curves around and backs up to 5 different neighbors. One day, I meet one of those neighbors, Peggy DeBolske. She also has two little ones of her own at the time, Joey and Samantha (Natalie and Steven come along 2 and 4 years later). We become fast friends and soon learn that we are both Arizona natives. Then we discover that we both went to Navajo. I ask her maiden name… Murrietta. "Oh my gosh, is Terrie your sister? And are Mark and John your brothers?" (Her oldest brother, Vince, was long gone from Saguaro by the time I arrived.) Yes!  Small World! We, of course, have been best friends ever since and it gave me the opportunity to re-connect with Terrie.
Peggy and Terrie attended my Blog 2nd Anniversary Party earlier this month and Terrie told me that all of the recipes for her birthday party were coming from this site and that Peggy was hosting the dinner party. I glared poor Peggy down and gave her hell for not asking me to help her. She relented and that is how I wiggled "my way in."
August 28, 2011 2 Comments