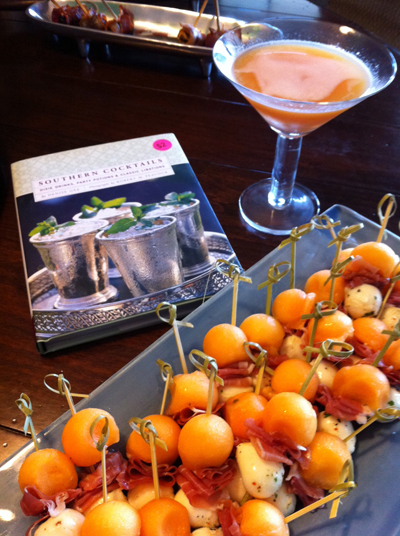 When deciding what to serve for an appetizer party, it is important to think of all the various components:
hot and cold
meat and vegetarian
rich and mild
complex and easy-breezy
color on the table (you need to be careful that everything is not dark and brown)
I put out only four items for the Blog Anniversary Party, which is at least 3 less than I normally do. Taking that into consideration – all the above factors were especially important to keep in mind.
Here is what I offered and what purpose each served for the buffet:
Bacon Lollipops

– hot, meat, rich, complex, although lacking in color
Prosciutto, Melon, and Bocconcini Picks – cold, meat, mild, colorful, and exceptionally easy-breezy
(can be made vegetarian – substitute an heirloom cherry tomato for the prosciutto on half,  or all, of the picks)
The importance of having at least one easy-breezy recipe included on a party buffet can not be overemphasize. 
As the hostess, you need to know that there is at least one recipe that is no fail, no cook, and if all else falls apart, you could get your kid or spouse to complete it for you without too much direction. 
This recipe is exactly that, keep it in your repertoire!
August 20, 2011 No Comments