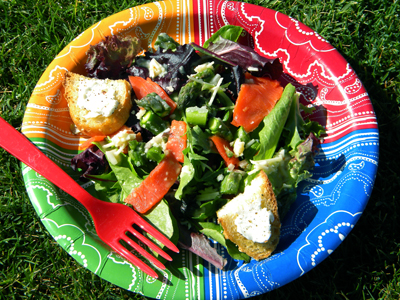 I'm often asked, "How exactly do you come up with new recipes?"  Well, sometimes, it comes from inspiration; such as beautiful fresh produce at the farmer's market, or a new product at Trader Joe's, or even a great sale on a favorite cut of meat at the supermarket. Other times, it is the result of the rule, "Necessity is the mother of invention." That is the case today. Here is a word-for-word text I just received from my husband of nearly 25 years, (May 4th), David. "I forgot I was supposed to bring some kind of side dish to the (company) picnic today

if you have something you could easily throw together…" This from a man married for, just weeks away from 25 years, yet it sounds more like something that would come out of your 4th grade child's mouth!
If you're a married woman with children, you are thinking, "Yup, no surprise, been there- done that." If you're a man, you are most likely thinking, "What is the big deal, obviously the woman knows how to cook."  Whatever! Of course, I do "have something" and I can "easily throw it together". After all, Dave does know what our refrigerator looks like at any given minute. So here is how side dish for today's picnic got thrown together.
April 24, 2010 4 Comments