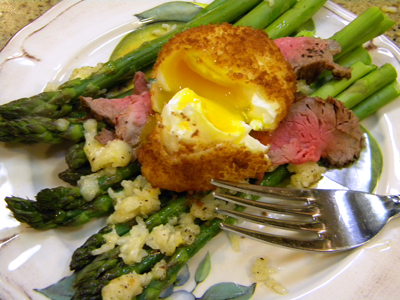 While our family was in Italy during the summer of 2008, I had Asparagus with Prosciutto di Parma, Parmegiano Reggiano, and Poached Eggs. The dish is a common sight on Italian menus.
I've taken quite a few liberties, basically Americanizing and bastardizing it at the same time! The inspiration to do so, came after a cooking class on Monday night with Chef Chris Curtiss of Noca, who made these outstanding fried poached eggs and served them on top of a fabulous salad with pickled red onions, bacon, and red wine vinaigrette – truly amazing!
I often serve the asparagus as a side dish and it has already been feature on this site, but this is a wonderful light, refreshing, and satisfying main dish for any night of the week. Of course, it would also make a great brunch dish.
April 21, 2010 3 Comments