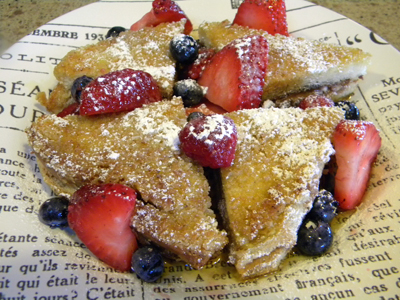 Finally, this is the last of the Easter brunch recipes. Hopefully this past week of posts has given you a nice repertoire of brunch, breakfast, and spring recipes ideas.
I've mentioned of my love for Nutella before, so how about a little "history of Nuttela" this time?  This comes straight from the Nuttela website, "Nutella® spread, in its earliest form, was created in the 1940s by Mr. Pietro Ferrero, as pastry maker and founder of the Ferrero company. At the time, there was very little chocolate because cocoa was in short supply due to World War II rationing. So Mr. Ferrero used hazelnuts, which are plentiful in the Piedmont region of Italy, to extend the chocolate supply." There you go, a little history with your breakfast!
I served this at the Saturday office brunch last weekend and have some "do-head" tips for you. The brioche can be sliced, spread, and sandwiched together a day ahead. Place in an airtight bag or container and refrigerate until ready to cook. And the cereal-brown sugar mixture may also ground together ahead and stored in an airtight container. Unsliced loaves of brioche can be found at Trader Joe's.
Lastly, a shout-out to my girlfriend, Lorie, in Los Angeles…. I couldn't decide which old picture to choose, so I put up both of them.  Happy Birthday, Lorie! xoxo
April 8, 2010 3 Comments