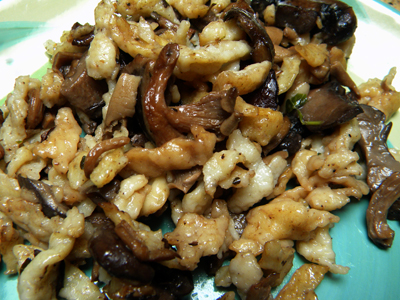 Just like yesterday, today we have dish that was inspired for our Easter menu by a dish we enjoyed at the new FnB restaurant in Scottsdale (here is the link). The night we went, Dave had the most amazing chicken dish. Mind you, chicken is not something either of us generally order at a restaurant, but I'd read rave reviews about Chef Char's chicken with spaetzle. Those reviews were right on the mark – fabulous!
Spaetzle are tiny dumpling-like noodle nubbins from Germany and Austria that are made with flour, eggs, milk, salt and nutmeg. The spaetzle dough can be firm enough to be rolled and cut into slivers or soft enough to be forced through a sieve, colander, or spaetzle-maker directly into boiling salted water. They rise to the top then are drained and sautéed in butter or mixed with a sauce. Spaetzle literally translates from German as "little sparrow". In Germany, spaetzle is served as a side dish much like potatoes or rice, and is often accompanied by a sauce or gravy.

There are spaetzle-makers that consist of a hopper to hold the dough as it slides across a metal plate with holes, others that look like ricers, and a third style that is a food mill with a handle and a paddle to force the dough through the holes of a special speatzle blade (which is what I have).
I served the wild mushroom spaetzle with my Pomegranate Molasses Lamb Chops which you can find on this previous post.
April 6, 2010 2 Comments