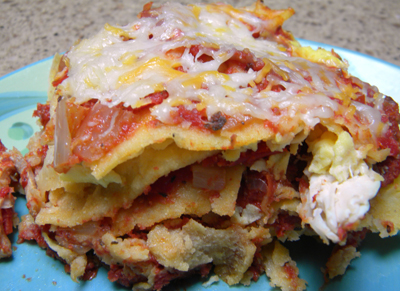 I was inspired to make chilaquiles for Easter brunch after learning about them at FnB, a fabulous new restaurant in downtown Scottsdale, (click here for link) where Chef Charleen Badman traditionally makes them on weekends for the late-night crowd.
Chilaquiles are a traditional Mexican dish. Typically, corn tortillas cut in quarters and lightly fried are the basis of the dish. Red or green sauce is poured over the tortilla triangles, called "totopos." Scrambled eggs and/or shredded chicken are sometimes added. The dish is topped with queso fresco and crèma.  Usually, chilaquiles are eaten at breakfast or brunch. This makes them a popular recipe to use leftover or stale tortillas.
I'll be using two of my favorite "convenience" items – 3 garlic cubes (purchased at Trader Joe's) and 4 chipotle cubes(homemade using empty garlic cube trays – see this previous post on how to do so).  You can too, or just follow the recipe for the "traditional" method of peeling and mincing.
April 5, 2010 4 Comments