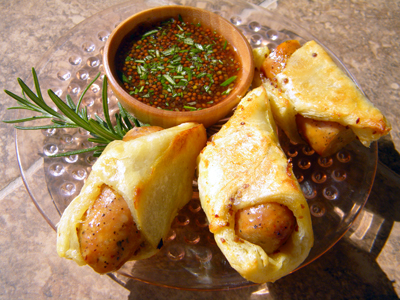 On Saturday, I'll be serving a pre-Easter brunch to the hardworking people in my husband, Dave's, office.  It's a CPA firm and Easter usually falls during the crunch time of tax season, so these people need a break! This recipe is on the menu.
I confess, I totally ripped it off out of the Williams-Sonoma catalog. They sell these cute little "breakfast pigs in a blanket".  The Williams-Sonoma version uses Aidell's chicken-apple sausages. While I did find Aidell's sausages at Costco and was planning to use them, I spotted some mango-chicken sausages and decided to go that route… happy I did because – Yum!
So here are your choices… purchase from the catalog and pay $48.50 (that's with shipping) for 24 "pigs"…  or… make mine, and pay less than $25 for the pastry and sausages and you will wind up with 60 – as in "six- zero"  little pigs!!!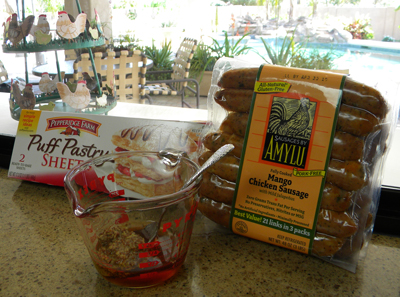 I know what you're saying to yourself right now…. "I do not need Sixty Pigs, even if they do cost $1.58 less per piece than the Williams-Sonoma pigs."  
Oh yes – You do!!!  
These are delicious, easy, and so great to have on hand in your freezer.  That's right, you can bake and serve some now and freeze the rest for later. Of course, you can always cut the recipe in half, and use just one package of puff pastry and find another and smaller (meaning a smaller quantity then sold at Costco) package of sausages. But once you get into the roll of putting these together, it takes no time at all and you'll feel rich and wise with the knowledge that you have these little gems stocked away.
They can go directly from the freezer to the oven -at the ready for a quick cocktail appetizer or as a fun breakfast, any day of the week. Finally, I call for whole-grain mustard, because I like it, but if you only have regular Dijon, that works too.
April 1, 2010 9 Comments