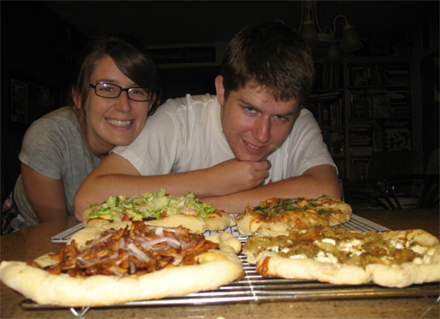 Connor is safe and sound and cool in beautiful Flagstaff and I am trying to settle back into my new routine of blogging. As promised here are the pizza recipes from Connor's "Last Supper" (I know, how dramatic can a mom be?!?) You'll notice that the dough/crust recipe is the same for all four…. that is because this is my favorite and most reliable crust recipe. There are different techniques for each in the baking, but any and all can be done which ever way you prefer. On Monday night, I baked all pizzas on a stone in a 500 degree oven. When I feel like going outside (I did not on Monday, since it was sweltering outside!) then I prefer to use the grill, directions for grilling pizza can be found in the Barbecue Chicken Pizza recipe below. But until the evenings cool off, you won't find me out there unless the pool is also involved!
Connor's California Club Pizza
Dough
1 tablespoon or 1 package dry yeast
2 cups flour, divided
2 tablespoons olive oil
1 tablespoon milk
1/2 teaspoon salt
2 cups sliced rotisseri chicken breast
2 cups shredded mozzarella cheese
1/3 cup cooked thick bacon, crumbled-about 8 slices
3 cups chopped iceberg lettuce
1 cup chopped romaine lettuce
4 tablespoons mayonnaise
4 large tomatoes, two diced, the other two each sliced into 8 slices
1 avocado, sliced into 16 slices
Dough: In the large bowl of a standing mixer, combine 1/4 cup lukewarm water, the yeast, and 1/4 cup of the flour. Let stand for 20 minutes, this is called the sponge.
Add the remaining 1 3/4 cups flour, 1/2 cup lukewarm water, the olive oil, milk and salt and mix thoroughly. Turn the dough out onto a floured surface and knead until smooth, elastic, and a little bit tacky to the touch, about 8 minutes.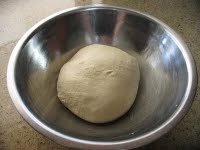 Place the dough in an oiled bowl and turn the dough over to cover with oil. Cover the bowl with plastic wrap…
and let rise in a warm place until doubled in volume, about 1 hour.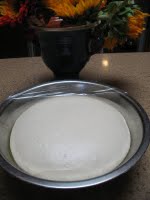 Place a pizza stone in your oven and preheat to 500 degrees.
Divide the dough in half. Form each half into a 10-inch circle on a lightly floured surface.
Place one round of dough onto a pizza pan or a pizza peel that will be used to slide the dough onto the hot pizza stone. Be sure to dust the pizza peel liberally with flour or cornmeal so that the assembled pizza will slide off easily. Bake for 7 to 8 minutes or until crust just begins to brown. Repeat with remaining half of dough.
Brush the pizza crust with olive oil. Sprinkle 1 cup of shredded mozzarella on the crust, followed by 1/2 of the crumbled bacon and 1/2 of the chicken. Return to oven until cheese is melted, about 3 minutes. Repeat with remaining crust.
Assemble: Combine the iceberg lettuce with romaine lettuce in a large bowl. Stir in mayonnaise and mix until lettuces are well coated, then gently stir in the diced tomatoes.
Cut each pizza into 8 slices. Top each slice of pizza with a slice of tomato and 1 slice of avocado. Top each with lettuce mixture and serve immediately.
Makes 2 pizzas, 8 slices each
August 19, 2009 1 Comment